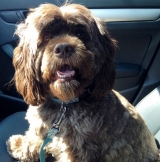 About Me
Basic Information
Gender

About me

I come from the "old country".....Roosevelt Raceway
Contact Information
State

City / Town

Country
My Racing Interests
Favorite Racetrack

Meadowlands

Favorite Horse

Magician

Favorite Racing Code

Harness
Education
College / University

Graduation Year
Member since

Thursday, 03 January 2013 13:01

Last online

3 days ago
Q. What has 23 teeth and an IQ of 88?
A. The staff of Racing 123

How hard can it be to correct the mistake made Fri night when they flipped the results of the entry?
They are still showing Danish Durango as the winner
My win count is short by 2.

Did someone say count to 10 and 1,2,3 was as far as they could get?
Uh, 1,2, another, another, another.
Marvin Maker drives better than they code.

Time for a letter to the Meadowlands management about the company the hired to run this.
They sure seem better at making all the negative comments from last weeks debacle disappear than actually having someone on duty to run this during the actual contest hours.
Clearly these people have no hands.
Whoever hired these amateurs should have made them qualify a few times.