2019 Summer Survival Challenge
2019 Meadowlands Summer Survival Challenge
Meadowlands Racing & Entertainment's 2019 Summer Survival Challenge (THE CHALLENGE) runs May 3, 2019 through August 3, 2019.
Prizes
Highest total bankroll based on pari-mutuel payouts from a $2.00 Across The Board wager ($2.00 to win, place and show) on your race selection.
Grand Prize: $1,000.00 & 2020 WHHC Spot
Second Place: $500.00 & 2020 WHHC Spot
Third: $250.00 & 2020 WHHC Spot
Most Winners:  $250.00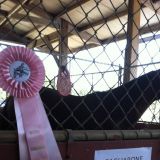 About Me
Basic Information
Gender

About me

Love animals!!!!
Contact Information
State

City / Town

Country
My Racing Interests
Favorite Horse

Grab Your Keys

Favorite Racing Code

Harness
Member since

Wednesday, 09 January 2013 09:14

Last online

3 days ago
this contest is not fair as Bizarro44 is in the lead for wins and he started out the contest with 4 lives?????