2019 Summer Survival Challenge
2019 Meadowlands Summer Survival Challenge Winners
Prizes
Highest total bankroll based on pari-mutuel payouts from a $2.00 Across The Board wager ($2.00 to win, place and show) on your race selection.
Grand Prize: $1,000.00 & 2020 WHHC Spot
Second Place: $500.00 & 2020 WHHC Spot
Third: $250.00 & 2020 WHHC Spot
Most Winners:  $250.00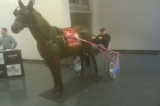 About Me
No personal information is shared.
Member since

Thursday, 10 January 2013 00:03

Last online

4 months ago
Tough loss finishing 2nd for jlats. Well played all season, only to lose it yesterday to two bombs.